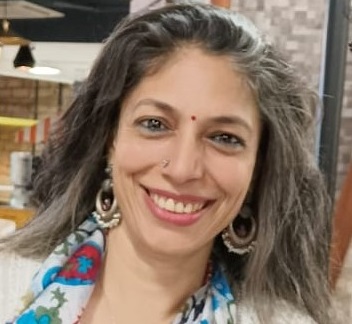 Aparna Prabhudesai
Founder Director Bodhivriksh™ (since 2005)
Presently work on various independent OD assignments and Behavioral workshops for organizations like L&T and Adani Group.
Conducted training programs for Clients like Mercedes Benz India Ltd, Tata Johnson Controls and the TACO group companies, VFS Global Services, Mahle BEHR, Tata Communications Ltd., L&T, Godrej Industries Ltd, Grasim Industries Ltd, Forbes Marshall Ltd, FIAT, Greaves Engines Ltd, Infosys, Symantec, Sears Corp, Wipro, Eaton, ACC, Bajaj Alliance, Bayer Crop Science Ltd., Thermax Ltd, AMDOCS, Kirloskar Brothers Ltd to name a few.
Behavioral programs include Assessment & Development centers, Workshops for effective Leadership, Behavioral labs, Conflict Management, EI, Coaching and Mentoring and OD interventions.
Programs in Gender Diversity and Inclusion –  various programs aimed at women empowerment and women in leadership for Corporates like Adani, Forbes Marshall and Wipro.
Am on the POSH committee as an external member for Fleishman Hillard and MESIL.
Some areas of work for Senior Leadership
Human behavioral process work
Assessor for Assessment Centers and Development Centers.
Creating and leading high impact teams.
Leadership coaching for senior executives.
Assessing self and team through Outbound Learning
Work at the Middle Management levels
Resolving conflict through effective communication.
Appreciative leadership (using AI as a tool for intervention)
Giving effective feedback.
Apart from work with the Corporates, I work closely for Person's with Disability through Adventures Beyond Barriers Foundation, a not-for-profit set up to create inclusion and employability for the PwDs through sports.
I am an endurance athlete. An ultra marathoner, a long distance cyclist and a mountaineer. Have many firsts and awards in the field of sports and been awarded the Shiv Chhatrapati Krida Puraskar, Maharashtra's highest sports honour for the year 2020.
Certifications:
ACC from ICF USA (Achievement Coach)
Certified Master Practitioner & Master Trainer for NLP from NFNLP, USA.
Certified OD consultant from Indian Society for Applied Behavioral Sciences.
Certified Extended Disc profiler
Additional information:
Have travelled through 32 countries and have the privilege of being among the rare Indians to have travelled through every state of India.
Education:
ISB Hyderabad- Entrepreneurial Management
Masters- Behavioral Psychology
Masters –Personnel Management and IR major
Masters – English Literature
Bachelors -Business Administration major
Level 1 German from Max Mueller