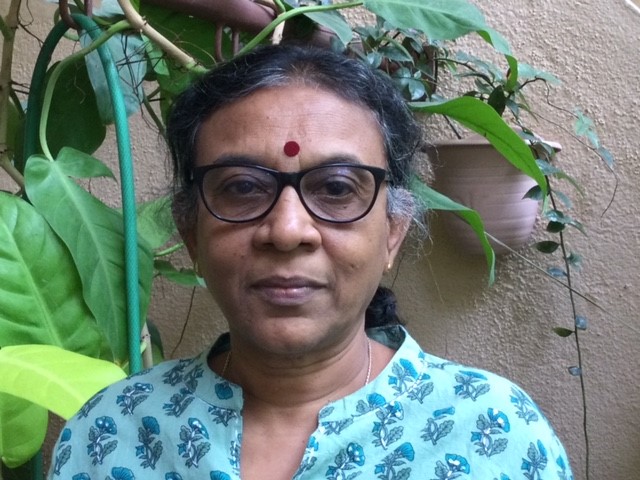 Dr.Lalitha Iyer
Building Changemakers and Entrepreneurs
Lalitha is deeply invested in Plusturst and committed to enable women with aspirations to   pursue their dreams through micro social ventures. Bringing in her 4 decades of experience in mainstream business and social development she has evolved a unique model to nurture entrepreneurial mindsets.
Expertise
Design and facilitation of learning experiences specifically aligned to client needs in various types of organizations.  Specific professional development programs designed by her include successive cohorts of livelihood professionals, Organizational change facilitators, Social entrepreneurs and Rural Edupreneurs.
About Lalitha
Lalitha is passionate about learning and is deeply inspired by changemakers in all walks of life.
Her 20 year banking career gives her a unique understand of business strategy and finance. As Faculty Member in SBI, she has offered many Executive Development Programs with specialization leadership, marketing  and change management.
She stepped out of her banking career to pursue her passion for learning and headed a reputed school Vidyaranya in Hyderabad for 3 years. This gave her a unique exposure to systems for inculcating curiosity without sharpening competitive behaviors. She strongly believes in a culture of collaboration and caring as the way forward for humanity.
She ventured into the development sector in 2001 and has spent two decades working closely with large NGOs, Government Projects and International Projects.
Her close involvement has been with  the Basix Group as independent director in their various boards. Currently she is Chairperson of the Sathi  Board.
She has worked closely with Higher Education and Irrigation deparments in the government of AP as knowledge partner for strategy building and change management.
Her core strength is in the design and facilitation of long duration experiential professional training on themes like livelihood promotion, organisational change facilitation for NGO executives, Social entrepreneurship for NGO leaders and Transformation in farmers Cooperative Credit Societies (PACS) across 9 states wot NABARD.
Recent international assignment include consultancies for Gender Equality and Mainstreaming (GEM) ,  Empowering Women for Peace and Development  in South Asia and Network capacity assessments for Microfinance networks in east Africa and MENA region.
Publications
Books
Transforming People, Communities and Organisations , a collection of papers presented at the India ABS Summit 2018 , ISABS (2019)
The Learning Crucible: Collective Reflections of T-Group Facilitators, co-editor for ISABS (2014)
Rescuing Railway Children: Reuniting Families from India's Railway Platforms (2013) along with Prof Malcolm Harper, Sage Publications, New Delhi
Whose Sustainability Counts- BASIX Long March From Microfinance To Livelihood Promotion (2011) along with Prof Malcolm Harper and Dr Jane Rosser, Kumarian Press, Virginia USA. (Indian Edition by Sage Publications)
Institutions Consultants And Transformation-Case Studies From The Development Sector (2009), Coeditor Guharoy, Shaibal (editors), Response Books, Sage Publications, New Delhi.
The Strategic Business Spiral, 2001, Response Books, Sage Publications, New Delhi.