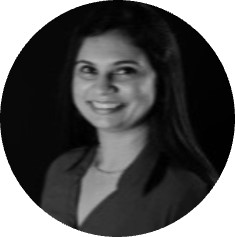 Meenakshi Vijayasimha
OD Consultant
Meenakshi's core focus in her consulting work is to unearth and cultivate the innate potential for growth in people and systems. She acts as a Catalyst for change and growth in her role as a Coach and Learning & Organizational Development Professional. She brings her understanding and experience of Systems, Human Capital Management and Applied Behavioral Sciences in designing and delivering Organization Effectiveness interventions.
With prior experience in Sales, Marketing and Advertising, Meenakshi co-founded Advaya Humanistic Systems Private Limited in 2013 at Bangalore. The company consults with Client Systems to enhance their business performance through design and deployment of effective human capital management strategies. Their services include Strategic Human Resources Management advisory, Organization effectiveness solutions, Executive and Leadership Team Coaching, Talent development programs.
In 8 plus years, Meenakshi and her team have delivered several programs enhancing organization effectiveness and leadership capabilities in teams. The team has designed and delivered Culture change initiatives, Management and Organization Development and Coaching. Team Advaya works across enterprises in Corporate, Government, Public and Social sectors.
She has served as Staff in the Group Relations Conferences (GRC) and "Listening to the Unconscious process in Self, Groups and Society (LTTUC)," workshops offered by the Group Relations India based on Tavistock Model.
Accreditations and Certifications:
Certified ​ ORSC™ Coach (Organization and Relationship Systems Coaching (CRR Global, USA),
Professional Member of Indian Society for Applied Behavioural Sciences (ISABS), India partner for NTL, USA.
Intensive Coach Trainer (ICT) from Neuro Leadership Group,
Certified practitioner of Drexler/Sibbet Team Performance System (San Francisco, USA).
Meenakshi enjoys diverse interests which spans across sports particularly Basket Ball, Adventure Sports and more recently into running Marathons and practices Asthanga Yoga. She also enjoys Dancing, Music, Cooking, Travelling and Reading.  She is married and lives in Bangalore with her spouse, two children and pet dog.