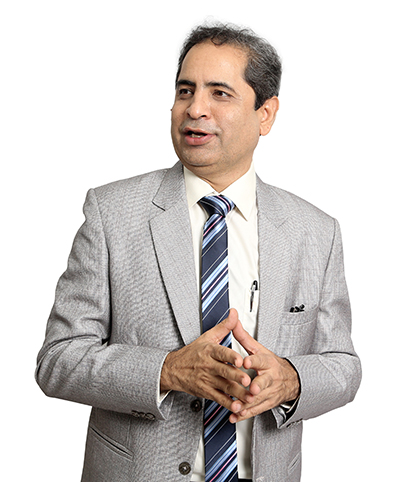 Harish Raichandani
OD catalyst, Business Coach, Corp Governance Steward and Visiting Professor
Sought for elevating business performance, strategic HR and shaping an enabling culture. Designs the interventions for nurturing Dynamic Capabilities in the upper echelons. He plays a stewardship role in improving corporate governance.
He serves as a visiting faculty, teaching full-credit courses at autonomous management institutes.
Other Expertise
Positive Psychology, Emotional Intelligence, and Human Process facilitation for individual and organizational growth.
About Harish
Executive Fellow in Management at the Indian School of Business (ISB) and the Founder & Chairman of Potentia. He champions the immersive SaaS offerings of Potentia for the development of Organizations.
Through Fidem, he focuses on the Board Evaluations supporting Chairmen/ NRC chairs/ Company Secretaries to calibrate their Board Capital.
He facilitates the applied behavioural science interventions at ISABS and volunteers in mainstreaming persons with disabilities to promote an inclusive society through ABBF.
Over the last fifteen years in Potentia, Harish has led his team to support 350+ client organizations and contributed to the business success through OD interventions and coaching executives. He served the corporate world for 20 years before turning a consultant; in his last role, he was with Tata Business Support Services as the CHRO & Operations head.
An Appreciative Inquiry accredited practitioner, his evangelical zeal for positive psychology can be trailed in his work across several client organizations. An architect of emotional prosperity (PEP) framework and emotional intelligence master-trainer, he has been instrumental in coaching/ training more than 1000 leaders including over 100 CXOs in their quest to unlock emotional intelligence. He is an ICF accredited Professional Certified Coach (PCC).
Intermingling of work & hobbies has led him to be a professional member of ISABS, NTL Institute of Applied Behavioral Sciences, NHRDN, and the International OD Network.
Harish is a student of life, often learning through the eyes of his grown-up children; his infrequent musings can be found on his blogs – Celebratetheright and LinkedIn. His desire to remain energetic made him a late entrant in endurance sports, yoga and swimming. He likes to play chess, read, travel, swim and waits eagerly for his next opportunity to scuba-dive, paraglide, sky-dive or bungee. He lives in Hyderabad (India).