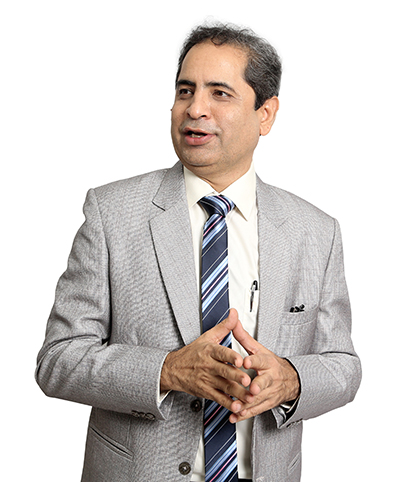 Harish Raichandani
OD catalyst, Business Coach & Corp Governance Steward
Works with leadership to catalyze organization transformations, starting with their picture of a well-defined future he contributes towards changing the present. Propagates the upper echelons approach to change, transformation, and growth.  Supports companies in their Board Evaluations. Facilitates to improve Board chemistry and lubricate the working of boardroom mechanisms.
Other Expertise
Leadership Coaching, OD interventions, Strategic HR, Corporate Governance, and Immersive technology architect (Tools for trainers, consultants and OD managers making Learning and OD seamless)
About Harish
As the CEO, he mentors team Potentia. Over the past decade he has nurtured a 'talent dynasty' that served over 350 clients. As a consultant entrepreneur for 15 years, he has served frontline salesmen on street to the Directors in oak paneled boardrooms. First 20 years of corporate career provided him opportunities across multiple industries (Engineering, Manufacturing, Telecom, IT, and Consulting) to contribute to different maturity stages of myriad organizations. Before sculpting Potentia to become one of the admired OD firms from India, he was CHRO and VP (Ops) at Tata Business Support Services.
An Appreciative Inquiry accredited practitioner, his evangelical zeal for positive psychology can be trailed in his work across several client organizations. An architect of emotional prosperity (PEP) framework and emotional intelligence master-trainer, he has been instrumental in coaching/ training more than 1000 leaders including over 100 CXOs in their quest to unlock emotional intelligence. He is an ICF accredited Professional Certified Coach (PCC).
Intermingling of work & hobbies has led him to be a professional member of ISABS, NTL Institute of Applied Behavioral Sciences, NHRDN, and the International OD Network. Teaching, his other hobby, brings him close to graduate students, as a visiting faculty at some of the sought after business schools in India.
Harish is a student of life, often learning through the eyes of his grown-up children; his infrequent musings can be found on his blogs – Celebratetheright, Fiducia and LinkedIn. His desire to remain energetic made him a late entrant endurance sports, yoga, swimming and occasional seize at scuba-dive, paraglide, sky-dive or bungee. He likes to play chess, read, travel, swim and wait eagerly for his next. He lives in Hyderabad (India).