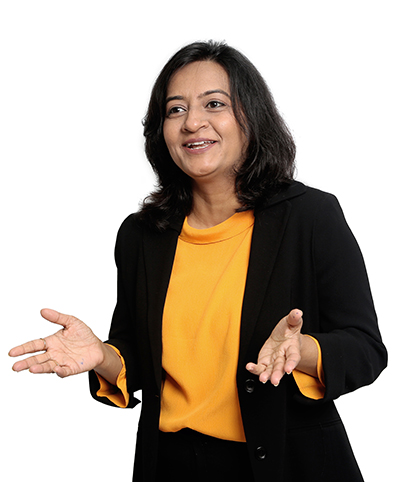 Kavita Desai
Senior Consultant
Enables business growth at client organisations across industries by increasing people productivity and team effectiveness & collaboration through strategic HR support in the areas of Organisation Effectiveness, HR systems and Training
Expertise:
Leadership Development, Behavioral Training & Assessments, Employee Engagement, Diversity and Inclusion
About Kavita
Kavita Desai is a Senior Consultant in Potentia's Mumbai Office. She has played a lead role in delivery of Potentia's Organisation Development, Strategic HR Consulting, that provides specialised client service through Learning & Development interventions, implementation of HR systems and practices to improve productivity, growth and profitability.
Since joining Potentia in 2011, Kavita has served clients across India and African continent .
Kavita has worked with leading companies in the Financial Services, ITES, Engineering, Media, Retail, Pharmaceuticals, Infrastructure, Speciality Services and Petroleum sectors. She has handled key assignments in the areas of facilitation of multi-rater feedback and performance management processes, design of workplace surveys and custom designed trainings/workshops in the area of leadership, individual effectiveness, collaboration and development feedback processes across diverse audiences
She enjoys conducting outdoor training. Is a facilitator who combines planned training interventions and reflective experiences in a seamless manner maximizing the learning for participants. For example, she has contributed significantly for a large Bank for more than 350 Vice Presidents on multi-rater feedback workshops as part of building their leadership talent management pipeline. Another example is having facilitated Goal-setting process for a large media and entertainment house for their department heads
In an independent capacity, she is on the panel of Internal Complaints Committee of three multi-nationals – a large fashion house, an organisation in the education and research space and a general insurance company. Provides advise /support on the implementation of the POSH act 2013.
Prior to joining Potentia, Kavita has worked with organizations like Birla Sun Life Insurance, KPMG, Crompton Greaves and Sterlite Industries
Kavita holds a graduation degree in Psychology and Anthropology, post-graduation in Management Studies (Human Resources), and diploma in Personnel Management. A certified practitioner of Emotional Intelligence, Firo-B and trained Coach (Power Coaching through Mind Kinetics), completed Basic and Advanced Lab in Human Process (ISABS).