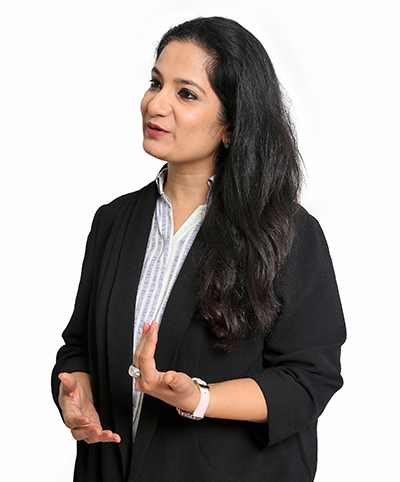 Roma Singhee
Principal Consultant & Lead Trainer
Supports Organizations to improve their positivity quotient, enhance productivity, generate a collaborative culture and overall, up their emotional quotient and managerial capability.
Expertise:
Managerial Development Programs, Achievement Motivation, Emotional Intelligence.
About Roma
Roma brings more than 20 years of experience. Starting off her career with an upcoming Private Sector Bank she spent a decade dabbling with the corporate life and numbers. A chance exposure to consulting led her to her true love of being with people and the last 13 years as a consultant have been the best years of her life.
'It's play that helps us do serious things better' are a mantra for the success of her training sessions. Exposure to the corporate world, understanding of ground realities, spontaneity coupled with fun and passion for people make her training programs interesting, impactful, and realistic. She has earned laurels for her programs through a host of L & D interventions across industries like IT, ITES, telecom, pharmaceuticals, infrastructure, banking etc.
Her special focus has been on programs around Managerial Development, Achievement Motivation, Business Communication, Inter-personal Skills, Advanced Presentation Skills, Collaboration to name a few.
Prior to joining Potentia, Roma has worked with organizations like Axis Bank where she grew from the ranks of a Deputy Manager to an Assistant Vice President in a span of 7 years. Her first job was with IndusInd Bank.
Roma is an ICWA by qualification. She is an accredited Extended DISC user and a certified ECR Coach. She is exposed to sensitivity training (BLHP from ISABS and Advanced Learning Theatre from Sumedhas). The pandemic has kindled a new interest in her the space of wellness and health.