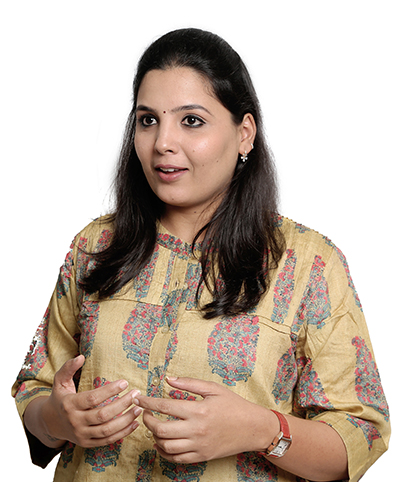 Vidhi Gupta
Consultant
Helps sales teams transform into an engine for company growth. She champions Potentia's initiatives for grooming the frontline Personnel in retail industry.
Expertise :
Communication Skills, Team Building, Sales Training.
About Vidhi
Vidhi Gupta is a Consultant and Trainer in Potentia's Hyderabad's Office, whose enthusiasm is contagious. She specializes in the area of frontline sales staff efficiency and effectiveness, personal effectiveness of individual contributors, supervisors and managers, focusing on skills and competencies that multiply the results for the organization and leveraging the latent potential of the participants.
Since joining Potentia in 2014, Vidhi has served clients across Fashion retail, Jewellery Retail, FMCG and IT sectors. She focuses on organisational capability building through training workshops in Sales, customer service experience and service standards. The uniqueness of training programs designed and facilitated by Vidhi lies in simplifying concepts into practical, actionable behaviors that go a long way in delighting their customers.
Her stay at hostel during her schooling at Maharani Gayatri Devi School – Jaipur has been a defining moment in her life, teaching self reliance and independence.
An eye for detail and acute sense of customer comforts make it natural for her to groom sales and customer service staff effortlessly.
An "Unflappable" trainer, she deals with difficult situations in training room and field with a healthy sense of humor. Vidhi has been working closely with a fast growing clothing retail organization being part of its growth from a handful to more than 50 stores in a matter of two years. Being aesthetically inclined, she is a natural fit to guide the frontline staff at stores who routinely serve the uber- wealthy clientele.
Prior to joining Potentia, Vidhi has worked at an NGO called "Child Line" which helped children in distress, has worked in Gymboree Play and Music as a facilitator for young parents and has had a stint in the Manufacturing industry.
Vidhi has been invited as a guest speaker on soft skills at the Jagran University Bhopal, and extends support to a school run by her community which promotes education for girls in their vicinity.
Vidhi consciously chooses to work closely with young minds at an impressionable stage, as she believes that lessons learnt early in life (Childhood or First job), continue to shape the following years..
A Psychology graduate, with a Diploma in Management, Vidhi was awarded gold medal for excellence in Psychology in college.